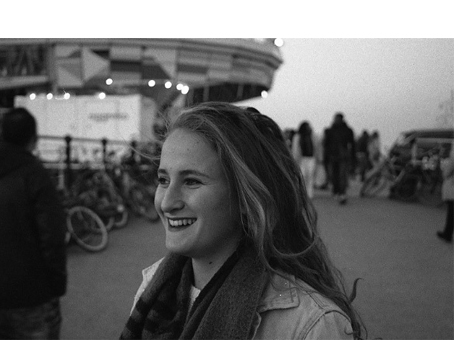 Lotte Meeuwissen is a Dutch Interactive/Media/Design graduate from the Royal Academy of Art, The Hague. Her products are conceptual yet tangible and her designs are established with simplicity as well as attention to detail. Through engaging the senses, Lotte heightens the overall experience of her work.
E: info@lottemeeuwissen.nl         |          T: +31618949117
As a designer Lotte values to be a Maker. Empathic and curious. Analytic and dynamic. Social engaging. And has a strong excitement to inspire and foster impact.
Lotte is trained by study and practice in INSPIRATION, IDEATION, IMPLEMENTATION and PROJECT MANAGEMENT.
INSPIRATION
– Human-centered approach: skilled in thinking from "people's perspective".
– Framing of design challenge.
– Doing thorough research into the context: able to find engaging secondary information of the topic.
– Preparing and conducting interviews with target audience.
– Strong observation and listening skills: able to turn observations into actions.
IDEATION
– Reflecting and acting upon research and data: able to inspire a team.
– Idea generator and natural problem-solver: skilled in ideation and brainstorming.
– Storyboarding: skilled in creating user-journey, user analysis, business model canvas.
– Rapid prototyping: turn ideas quick and easily into tangible solutions, a hands on approach, use of scratch materials.
IMPLEMENTATION
– Live prototyping: implement a design for testing interactions in real world.
– Evaluation of prototypes.
– Identifying and adapting to design needs: able to work, learn and adapt quickly towards necessities in a multidisciplinary environment.
– Turn prototype into design and extensive knowledge in design: product design, graphic design, interaction design, sound design, photography, video making, DIY-electronics.
PROJECT MANAGEMENT
– Experience in building partnerships with professional field (collaborated with: International Flavors and Fragrances, Jaimie van Heije) in personal projects.
– Project lead, project management and communicating the necessities of the project clearly to the field.
– Storytelling: able to communicate the project visually and verbally.
– Writing empathic and engaging project proposals.
SOFTWARE
Illustrator (good knowledge), Photoshop (good knowledge), Premiere Pro (good knowledge), Ableton (basic knowledge), Cinema 4D (basic knowledge), Processing (basic knowledge), InVision (basic knowledge).
Exhibitions
2017 Graduation Festival 2017, Royal Academy of Art, The Hague NL
2015 ATTENTION! Evacuate Now! Clear!, KABK Gallery, The Hague NL
2013 CSI: VBW, GEM Museum of Contemporary Art, The Hague NL
2013 On all fours, TodaysArt Festival, The Hague NL
Experience
2016  Domestic Data Streamers, Concept Artist and Design Researcher, Barcelona ES